vistaline, IDSystems exclusive slide & turn door system has been named as the 'Best Glazed Doors' at the prestigious Build It Awards in London tonight. The advanced Swiss designed system beat off strong competition to pick up IDSystems third trophy in the category since 2015.
Learn more about the vistaline systems >>
The innovative slide and turn system is capable of creating a complete opening like bifold doors yet with slimmer frames like sliding doors. vistaline offers the latest trend in the glazing market, providing a contemporary solution that consists of individual, non-connected panels that slide and stack to one end.
The thermally broken doors are designed with an industry-leading combination of precision engineering, outstanding thermal performance and ultra-slim 45mm sightlines and are available with a flush track that includes a patented weather seal that contributes to advanced protection from wind and rain.
Speaking of the win, IDSystems Managing Director Richard Hunter was proud, saying "We spent five years researching this technology and the vistaline system blew us away. We've tested every product of this type on the market and nothing even comes close to the innovation and detail that go into making this system"
"We are now in a position where we can say to our customers that we have award-winning bifold door systems (SUNFLEX SF55, winner 2015), an award-winning sliding door product (theEDGE ultra-slim sliding door, winner 2016) and an award-winning slide & turn product, and nobody else in the market can even come close to that expertise and breadth of products."
The advanced Swiss designed system beat off strong competition to pick up IDSystems third trophy in the category since 2015.
The patented 'flipper seals' of the vistaline feature gaskets within the base and head tracks that rotate and seal against the frame of the panels, whilst the operation of the handle to secure the doors sees the side jamb extend to compress the panels together.
This compression, where the outer frame of one panel overlaps the next, seals the doors together increasing the overall weather tightness of the doors and providing (along with the multipoint locking in the side jamb) excellent security.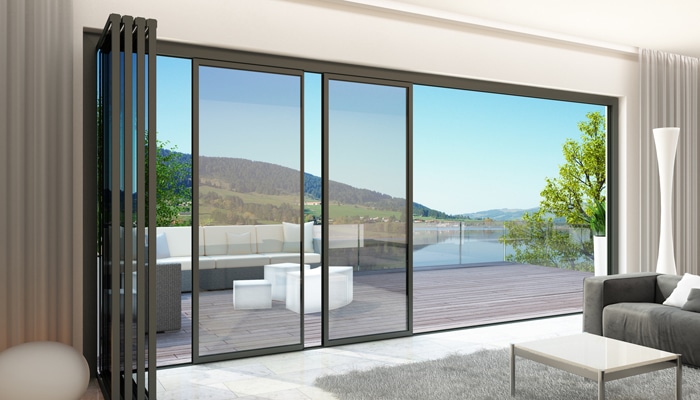 The vistaline panels are triple glazed as standard and achieve a hugely impressive thermal performance with U-values as low as just 1.1W/m²K, thanks to the advanced multi-chamber thermal break.
The system is available to view, alongside a range of IDSystems products, at The Building Centre off Tottenham Court Road in Central London or at the IDSystems Showroom in Norwich.